Nossaman Honored with "Employer of the Year" Award by WTS Orange County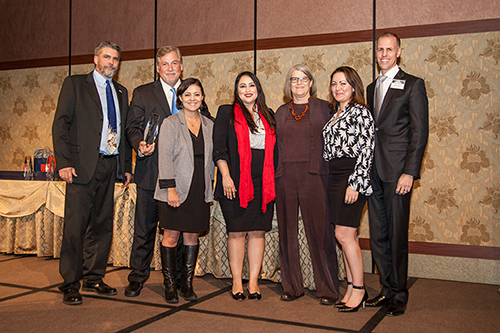 At this year's WTS Orange County Awards & Scholarship Gala on December 7, Nossaman was recognized as the 2017 Employer of the Year. Nossaman's Managing Partner, George Joseph, accepted the award on behalf of the firm, and was joined onstage by Nancy Smith, Stephanie Clark, Katrina Wu, who serves as WTS-OC's Scholarship Chair, and Bernadette Duran-Brown, who serves as WTS-OC's Diversity Chair.
In his acceptance speech, George reiterated that at Nossaman, "we are committed to fostering a diverse and inclusive environment, and that our efforts reflect our core values, and are part of our success." George also emphasized that in times like the present, where horrendous harassment stories continue to come to light, as employers, we are obligated to ensure that we are providing a safe, inclusive and welcoming environment for our employees--especially our female employees. Nossaman's core values go hand-in-hand with the WTS mission to attract, retain and advance women in the transportation industry.
Nossaman is a very proud sponsor and partner of WTS.